Chances are, you are here to roll up your sleeves and learn more about yourself and your 12 magnificent powers! Every two weeks, you will be provided a steady stream of materials, as we all consider one particular power. Below are some suggestions to help you maximize your two-week experience with each power: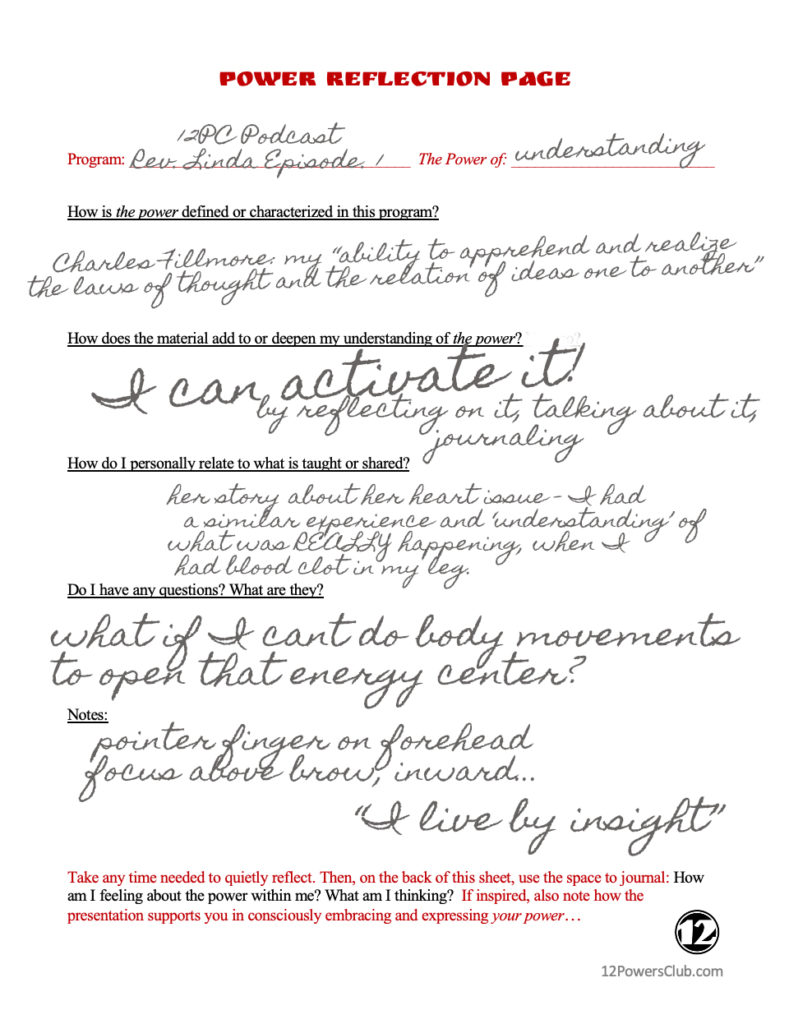 Explore….
Download the "Power Reflection Page" pdf below and print out oodles of copies to have on hand. With every teaching, blog, song, meditation, discussion, prayer — grab a page and take notes! There are some questions to prompt you as you receive and reflect (see sample page to the left).
At the end of every two-week period, sit with your pages on the power you've been reflecting upon… Of all that is there, what speaks to you most profoundly? What has Spirit revealed to you during the past two weeks, as you've taken the time to focus your heart and mind on your power?
Express…
DISCUSSION FORUMS: You may be writing down questions that come up for you. The discussion forums are a GREAT place to engage in some conversations with others, asking those questions. It is amazing what answers arise as we dive deep together. And hey, you may share some things in the forums that answer questions others may have! You are a conduit for truth as you lovingly connect.
COMMENT on POSTS: With every program/post, you have the opportunity to comment (bottom of each program/post page). I'm sure the Contributors would love to hear from you!
FB PRIVATE GROUP: Our group interactions are not limited to the 12PC website… we have our Private Facebook Page on which we can continue conversations, share and engage…
WRITE A BLOG POST: You are doing a lot of reflecting and journaling… and perhaps you'd like to share with other members?! YES! It's another great way to reinforce all you are learning – and it will be a blessing and encouragement to others! . A story, a song lyric, a poem – don't hesitate to share your writing, whatever form it takes. Are you an artist? Upload a picture of artwork you've created that has been inspired by your exploration(s)! Here is a link to Submit a Member Blog Post.
---
I hope you find the Power Reflection Page (pdf) helpful, along with the suggestions on how to further explore and express your 12 Powers! I cannot wait to discuss all we are learning, and hear how we each are growing and unfolding. So glad we are on this glorious adventure together! In Abundant Power, Kim-Char